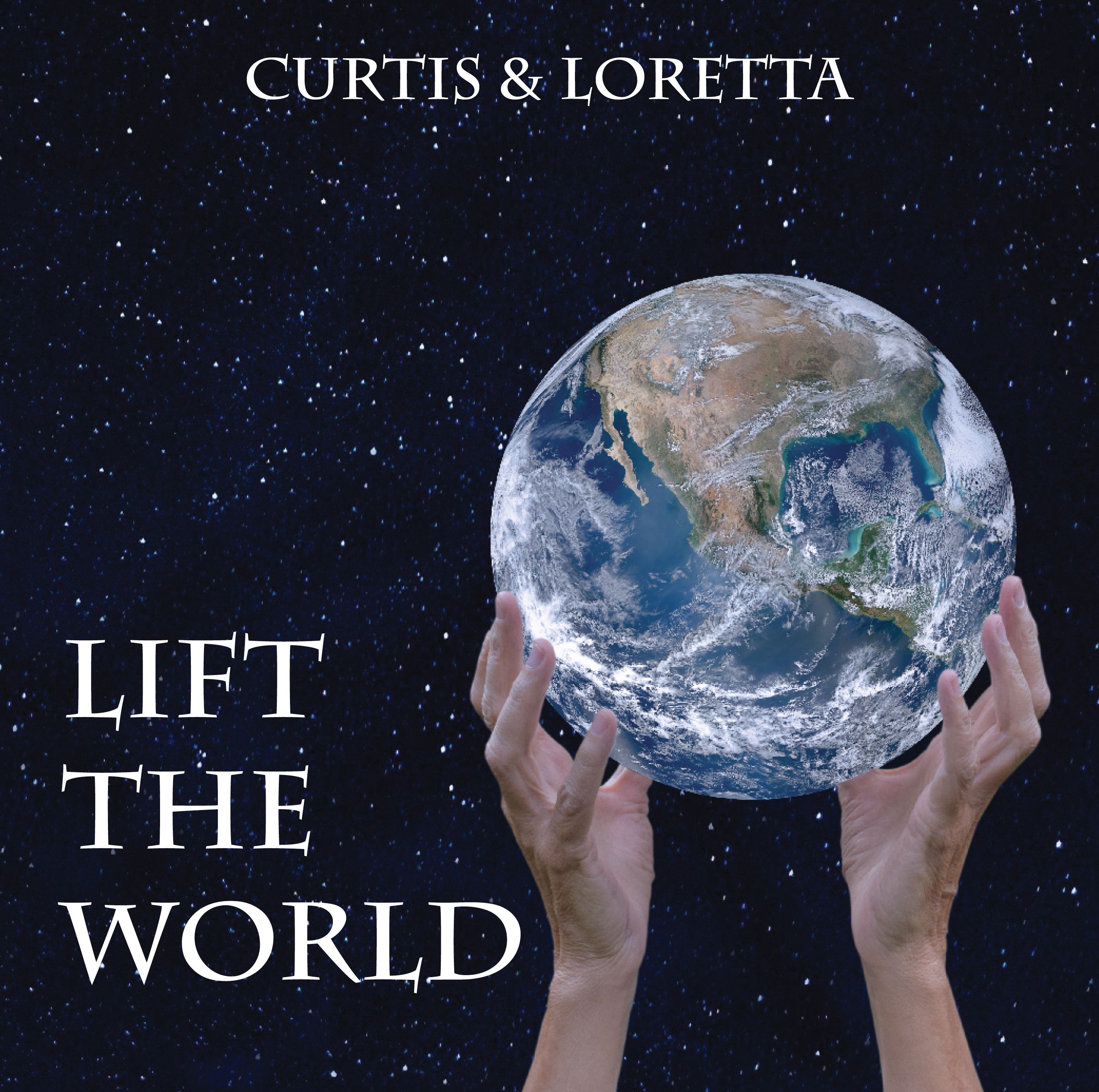 "Lift the World" has Arrived!!! 
Our brand new CD, "Lift the World" is out today, Oct 21 !!! You can listen, stream, download, or buy a physical copy athttps://curtisandloretta.com/music-store. It's also on all digital platforms, such as Spotify, Apple Music, etc, etc. We'll also have CDs available at our concerts, and they're at Homestead Pickin' Parlor in Richfield, MN. 
If you don't like ordering online, no problem! Send your address and check for $14 ($10 for the CD, $4 shipping), made out to Loretta Simonet, PO Box 18652, Minneapolis, MN 55418, and we'll mail you one right away. Any questions? Email us at loretta@curtisandloretta.com 
WHAT'S ON THE ALBUM? - Like so many others, we had time during the pandemic to step back and think about what means the most to us. These songs celebrate what is really important in this life, from the humorous, to the heart-warming, to the heart-breaking. The songs shine a light on what we should keep and build upon, what we should throw out, and especially on how we cherish those most dear to us. 
Chris Vallillo of Gin Ridge Concerts in Illinois said, "It's a generous cornucopia of beautifully crafted songs that speak from the heart of the struggles and joys of life, performed with honesty, grace, and uncommon musicianship. You can't listen to this recording and not be touched."  
HERE ARE THE SONGS -  For more info about the songs, go to  -  
https://curtisandloretta.com/lift-the-world-new-album 
1. Roots Grow Strong (Simonet) 
2. Santa Claus on Halloween (Simonet) 
3. Lift the World (Simonet) 
4. Karmic Closet (Simonet) 
5. Home in You (Simonet) 
6. Corona (Simonet) 
7. Shoulda Coulda Woulda (Simonet) 
8. Beauty of the Song (Simonet) 
9. Dr Grace Danforth (Simonet) 
10. When the Roll is Called Up Yonder (Black) 
11. Get a Hound (Teague) 
12. Hand Me Down My Walkin' Cane (Bland) 
CD RELEASE CONCERTS IN MINNESOTA - Please mark your calendars for these dates. We'd love to see you! November 3 at the Cultural Center in New York Mills, November 10 at the Princess Theater in St James, and November 19 at Ginkgo Coffeehouse in St Paul. Scroll down for all the details. 
RADIO AIRPLAY - If you don't hear it on your favorite show, contact them and request it!   
Thanks to the folk radio shows across the country that have already played it, including -  
Radio Heartland (The Current, MPR) - Minnesota 
Womenfolk (KFAI) - Minneapolis / St Paul, MN 
Midnight Special (WFMT) - Chicago, IL 
Roots for Breakfast (WFHB) - Bloomington, IN 
The Folk Show (NHPR) - New Hampshire 
Americana Alley (KMUZ) - Salem, OR 
Folk Renaissance (WLJS) - Jacksonville, AL 
Hootenanny Power (WRKF) - Baton Rouge, LA 
Americana Backroads (KGLT) - Bozeman, MT 
Music They Don't Want You to Hear (KATAL) - Las Cruces, NM 
The New Brick Road (KVMR) - Nevada City, CA 
Movin' On (KBOO) - Portland, OR 
Saturday Light Brigade (WRCT) - Pittsbugh, PA 
THANKS TO SO MANY - From the backing of the Minnesota State Arts Board, to our recording engineer Doug Lohman, to our guest musicians Tom Schaefer (fiddle), Sandy Njoes (bass) and Sera Smolen (bowed cello), we are blessed to be surrounded by such a wonderful arts community in Minnesota. And more than anything, we thank all of you; our audiences, fans and friends. If it wasn't for you, we wouldn't be making music. Thank you for making our dream of performing come true, over and over! 
  
CURTIS  & LORETTA  SHOWS 
***Thursday, November 3 at 7:30 pm 
NEW YORK MILLS CULTURAL CENTER 
CD RELEASE CONCERT for LIFT THE WORLD 
24 N Main Ave, New York Mills, MN  56567 
Reservations and info at 218-385-3339 
https://www.kulcher.org/fall-2022-concert-series/ 
Tickets $10 advance, $12 at the door. Members $2 discount. 
***Thursday, November 10 at 7 pm 
PRINCESS THEATER 
CD RELEASE CONCERT for LIFT THE WORLD 
505 1st Ave S, St James, MN 56081 
Admission is $5 
More info at 507-375-4370 
https://www.facebook.com/profile.php?id=100054000384407 
https://www.ci.stjames.mn.us/189/Princess-Theater 
***Saturday, November 19 at 8 pm 
GINKGO COFFEEHOUSE 
CD RELEASE CONCERT for LIFT THE WORLD 
721 N Snelling Ave, St Paul, MN 
We'll be joined by our fabulous guest musicians from the recording -  
Tom Schaefer on fiddle and Sandy Njoes on bass! 
Info at 651-645-2647 
https://ginkgocoffee.com 
Admission is $15 
***Loretta Simonet is a fiscal year 2022 recipient of a Creative Support for Individuals grant from the Minnesota State Arts Board. This activity is made possible by the voters of Minnesota through a grant from the Minnesota State Arts Board, thanks to a legislative appropriation by the Minnesota State Legislature; and by a grant from the National Endowment for the Arts. 
HOLIDAY SHOWS -  
Sat, Nov 5, 1pm - 3 pm 
ART'S HOUSE GALLERY 
Art Gallery in Riverwalk 
127 N Main St, River Falls, WI 
https://www.riverfallscab.org 
Free admission 
Thursday, Dec 1, 6 pm - 8 pm 
HOOPER-BOWLER-HILLSTROM HISTORICAL HOUSE 
Holiday Open House 
405 N Chestnut St, Belle Plaine, MN 
Free admission 
For more info, and our recordings, go to our website at  
http://www.curtisandloretta.com 
http://www.Facebook.com/CurtisandLoretta 
http://www.twitter.com/CurtisLoretta2 
https://www.instagram.com/curtisloretta789/ 
https://www.youtube.com/c/CurtisLoretta