Bio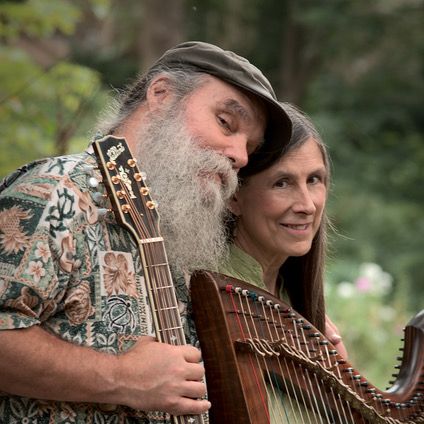 Curtis & Loretta
Folk Singer-Songwriter Duo
Curtis & Loretta's music comes straight from the heart. The husband and wife duo's extraordinary harmonies and proficiency on a parade of stringed instruments create an alluring frame for their poignant original songs, and traditional pieces from America and the British Isles. The current menagerie includes mandocello, folk harp, guitars, clawhammer banjo, and ukulele, plus a bit of kazoo, harmonica, and shakers. Curtis' down-home sense of humor and Loretta's theater background engage the audience in an experience that runs the gamut of rolling with laughter to holding back tears, with plenty of side-trips in between. They rack up countless miles each year, crisscrossing the country to deliver their own unique brand of folk singer/songwriter music.
In 1977, a theater graduate from Minnesota was sitting on a beach in Santa Cruz, California playing her guitar, practicing for a variety show. A young Texan who had just returned to the mainland from Hawaii stopped and said, "Hey, I play guitar!" And he did! They sat down together on a piece of driftwood and as they sang, they couldn't help but notice how well their voices meshed. They played together at the variety show that night, and have been singing together ever since, as the duo Curtis & Loretta.
Their heartfelt originals explore timeless issues such as love and longing, and they also boldly tackle tough subjects such as Alzheimer's (Can You Take Me Home?), and war (Angel of Bergen-Belsen). Loretta wrote twelve original songs for their 2015 CD, "When There's Good to Be Done," (backed by the MN State Arts Board) about real-life people who overcame great challenges in their lives, including a woman who donated a kidney to a toddler she didn't know, a WWII veteran who saved another man's life, a "marriage against the odds" story from the 1940s, a Somali immigrant who became a nurse at Mayo Clinic, and many more.
The duo's perennial humor is ever present, with songs and stories of harp players trying to get into heaven, small spenders on first dates, bugs, and lutefisk! Their years of performing and touring together have honed their comfortable stage presence to a delightful edge.
Special Programs
Besides their folk singer-songwriter concerts, Curtis & Loretta offer several special programs.
— "When There's Good to Be Done" - This concert features all original songs about real-life people who overcame great challenges in their lives. Loretta interviewed each person and crafted their stories into song. These songs all appeared on their CD "When There's Good to Be Done," which was backed by a grant from the Minnesota State Arts Board. Listen to a short video preview of these songs here. https://www.youtube.com/watch?v=Ko8hnDorHgQ
— Historical Concerts , including "Our Heritage in Song," "Prairie Songs: Sing Along with Laura Ingalls Wilder," and "Victorian Christmas." For more info on these shows, please go to https://curtisandloretta.com/historical-shows.
— Children's Shows, featuring fun and educational interactive songs.
Press / Reviews
MUSICIAN'S CORNER CONCERT  January, 2020 
What an incredible evening of music! As one of our audience members put it, "Wow, I can't thank you enough for last evening." Curtis & Loretta are not only talented, but they literally tell stories with their music. Beyond enjoyable, it was truly moving and inspirational. Their connection with the audience was beyond anything we could have hoped for. If you get a chance to book Curtis & Loretta, DO!" - D. Matthews
ILLINOIS TIMES   December 13, 2018
Known simply as Curtis and Loretta to most folks, the husband and wife duo of Curtis Teague and Loretta Simonet has been making vital and lovely music together for some three decades. From carefully chosen traditional songs to brilliant, self-penned odes, these two take music and give it space to hang out for you to enjoy.  Accompanied by an array of instruments including but not limited to Celtic harp, mandocello, mandolin, guitars, clawhammer banjo and National steel ukulele, plus a touch of kazoo, harmonica and shakers, they blend humor and realism in a poignant performance of super-duper stuff. - Tom Irwin
FIRST SETTLEMENT CONCERT  August, 2018
The sublime sound of harp, mandocello, and sweet vocal harmonies in our parlors was intoxicating. Curtis and Loretta charmed our audience with their stories and songs as well as their superb musicianship. Loretta's lovely soprano voice and Curtis' baritone harmonies were tight and spot on. They engaged the audience through laughter and tears. We can't wait for a return visit from these two wonderful people!       .....S. Mills
CITY PAGES   March 21, 2007
Curtis and Loretta are in many ways the quintessential folk duo: finely honed vocal harmonies of multidimensional intrigue, abundant talent on an array of stringed instruments, deep traditional roots, great originals, and equally strong strains of gravity and playful irreverence. Expect Irish drinking songs, tunes about bugs and lutefisk, a little Stephen Foster, a Yiddish folk tune or two, and an array of Loretta's remarkable originals. The latter are often certifiable tearjerkers, tackling, for instance, the ravages of Alzheimer's and the story of a concentration camp heroine. Loretta pulls it off by sidestepping melodrama in favor of eloquent writing and clear-eyed journalistic detail. It's both musically riveting and spiritually invigorating. ...Rick Mason
MINNESOTA  BLUEGRASS MAGAZINE  December, 2015  
Check your pulse. Got one? Okay. Then you're not going to get through Curtis and Loretta's new album, When There's Good to Be Done, without shedding some tears. And not because this is a crappy album, but rather because it's the best, most poignant, most powerful album of the nine this duo has recorded over the last quarter century.    
I slipped the CD into my car's player on a return trip from a gig I had played, and had to pull over or risk driving through tears before the first selection—the title cut—was half over. The song was about a Florida woman who read about a Minnesota child who needed a kidney and decided to give her one of her own. This was not going to be your typical folk album; this was going to be more "Jimmy Crack Corn and I Do Care."  
These are amazing stories—of a survivor of the 35W bridge collapse, of Native children raised and abused in state schools, of the parents of severely autistic children—and each song is more powerful than the  last. Some of them are sad, some of them make you angry and some are sweet-but-not-saccharin.  
Loretta's song- writing has improved steadily over the years and now, a hundred songs later, it sparkles. 
Never timid vocalizers, Curtis and Loretta sing with the confidence of  
a team who knows that they've got good material and good stuff. C &  
L's promo sheet references Curtis's tight harmony singing, a charac- terization with which I disagree. Tight harmony would have Curtis right next to Loretta, tonally, like the Navy's Blue Angels flying in wingtip-to-wingtip formation, but Curtis is everywhere, in a good way. One of the benefits of a two-voice configuration (as opposed to three  or four voices singing in harmony)  is that the second voice has lots of leeway—tonal options. It can sing a third harmony, or a fifth, or a seventh, or an octave, or an accidental, or in unison, and Curtis does all of these. So rather than the Blue Angels, the aeronautical image is more of a Simonet Regional Airlines plane flying straight and true and a Teague Gyrocopter circling, dipping and diving, but never colliding. This is one of my favorite things about C & L: one never knows exactly where Curtis is going to line up vocally against any given note in Loretta's melodies but—and this is critical— he always lands on a right note. His choices delight; he is the consummate Happy Wanderer.  
Instrumentally, the pair are a folkie power duo. Capable of double-digitry, they limit themselves to a half dozen instruments on When There's Good to Be Done. Loretta is a fine guitar player who understands the value of the bass note and the strum as separate entities and handles them deftly. And her folk harp playing just gets better and better. Curtis plays mandocello, banjo  and guitar, managing, as he always does, an alchemical combination of sangfroid and devil-may-care in his playing.  When There's Good to Be Done is a gem! ... Adam Granger
WHAT THEY'RE SAYING
"… gems of the local folk music community…"  …Cedar Cultural Center, Minneapolis 
"With a journalist's eye for detail and a knack for tugging at heartstrings while cutting to the quick of an issue, she writes riveting songs…" ...Rick Mason, The A List, City Pages
"Loretta Simonet has a jewel of a voice, while Curtis Teague's warm baritone and instrumentals are consistently impressive."                                                 …Jon Bream, Minneapolis Star Tribune
"Curtis and Loretta are true treasures of Minnesota.  Their music is stunning and their presence unforgettably lively and engaging.   Loretta's recent songwriting is heartfelt and well-crafted, telling stories of the resilience of local Minnesota people while hitting pitch perfect universal themes.  Their concert at the Folkhouse was a  special event for everyone in attendance."  ... Folk House Concerts, Plymouth
" I AM BLOWN AWAY!  What an incredible, meaningful collection of songs!"... Portland Folk Music Society 
"Keeping the modern folk tradition alive" … Frank Gutch, No Depression
AWARDS AND HONORS
2022: Creative Support for Individuals Grant - Awarded by Minnesota State Arts Board
2021: Loretta finalist in Songwriting Contest - Tumbleweed Music Festival, Richland, WA 
2019: MN Spin Artist - Hennepin County, 2019 Collection 
2018: Loretta finalist in Songwriting Contest - Tumbleweed Music Festival, Richland, WA 
2018: Arts Tour Minnesota Grant - Awarded by Minnesota State Arts Board 
2016: Top Albums of 2016 (When There's Good to Be Done) - www.folkradio.org 
2015: Artist Initiative Grant in Music - Awarded by Minnesota State Arts Board 
2012 - 2021: South Dakota Arts Council Touring Arts Roster 
2010: Arts Tour Minnesota Grant - Awarded by Minnesota State Arts Board 
2006: Top Artists of 2006 - www.folkradio.org 
2006: Top Albums of 2006 (Just My Heart for You) - www.folkradio.org 
2002: Best Acoustic Performers of the Twin Cities - City Pages 
1999: Top Albums of 1999 (Gone Forever) -  www.folkradio.org 
1999: Loretta finalist in New Folk songwriting contest - Minnesota Folk Festival 
2000: Finalist, Crossroads Music Awards 
Several nominations for Best Acoustic Folk Artist, Minnesota Music Awards 
SOME CONCERT HIGHLIGHTS 
Big Top Chautauqua -- Bayfield, Wisconsin  
Cedar Cultural Center -- Minneapolis  
Tidewater Friends of Folk -- Virginia Beach, VA  
Folk Club of South Florida -- Miami  
Fiddling Cricket -- San Jose, California  
Swallow Hill Music -- Denver  
Uncle Calvin's Coffeehouse -- Dallas  
Dallas Folk Society -- Dallas  
Harmony House Concerts -- Bonham, Texas  
Camp Street Cafe -- Crockett, Texas 
Vic's Music Corner -- Washington, D.C.  
Philadelphia Folksong Society  
Portland Folk Society -- Portland, OR  
Focal Point -- St. Louis  
Two Way Street Coffee House -- Chicago  
Folk-Lore Center -- Chicago  
Seattle Folklore Society -- Seattle  
Crypt Folk Club Showcase (Trafalgar Square) -- London  
Dallas Folk Society -- Dallas  
Lake County Folk Club -- Chicago  
St. Lawrence Arts Center -- Portland, Maine  
Bothy Folk Club -- Mankato, Minnesota  
Corvallis Folklore Society -- Corvallis, Oregon  
Iron Horse Music Emporium -- El Dorado, Kansas  
Oak Center General Store -- Oak Center, Minnesota  
Grassroots Concerts -- Brainerd, Minnesota  
Maple Street Chapel -- Chicago  
Three Rivers Folklife Society -- Kennewick, WA 
Curtis & Loretta have shared billings with:    
Pete Seeger, Mike Seeger, Arlo Guthrie, Anne Hills, David Roth, Vassar Clements, Sally Rogers, Bill Staines, Greg Brown, Claudia Schmidt, Del McCoury, Peter Ostroushko, Tanya Savory, Garnet Rogers, Spider John Koerner, Bryan Bowers, Karen Savoca, James Keelaghan, Gordon Bok, David Mallett, The Kennedys, and many more!
SOME FESTIVAL HIGHLIGHTS  
Fox Valley Folk Festival -- Chicago 
Tumbleweed Music Festival -- Richland, WA
Mill City Music Festival -- Minneapolis, MN
Plain Song Folk Festival -- Lincoln, NE
Great River Folk Festival -- LaCrosse, Wisconsin   
Minnesota Folk Festival -- Hastings, Minnesota   
National Resofest -- Minneapolis   
Chinquapin Folk Music Festival -- Peoria, Illinois   
Northwest Folklife Festival -- Seattle   
Lark at the Mountain Folk Festival -- Mt Rainier, WA   
Machias Folk Festival -- Machias, Maine   
Rockford Folk Music Festival -- Rockford, Illinois   
Minnesota Bluegrass & Old-time Music Festival -- Minn.   
Missouri River Bluegrass & Old-Time Music Festival -- North Dakota   
Ashland Folk Festival -- Ashland, Wisconsin   
TV & RADIO HIGHLIGHTS  
Folkstage, WFMT Radio -- Chicago 
River City Folk -- National Public Radio  
River City Folk -- American Cable TV Network  
"Do You Hear What I Hear: A Holiday Folk Tour" -- A National Public Radio holiday special hosted by Judy Collins  
Bound For Glory -- WBVR Radio, Ithaca, New York  
Please Stand By -- KPIG Radio, Monterey Bay, California  
Good Morning Monterey Bay -- KSCO Radio, Santa Cruz, CA  
The Morning Show -- Minnesota Public Radio  
Live From Studio One -- Iowa Public Radio  
KARE TV 10 p.m. News -- Minneapolis  
Plus live spots on countless radio stations across the U.S.