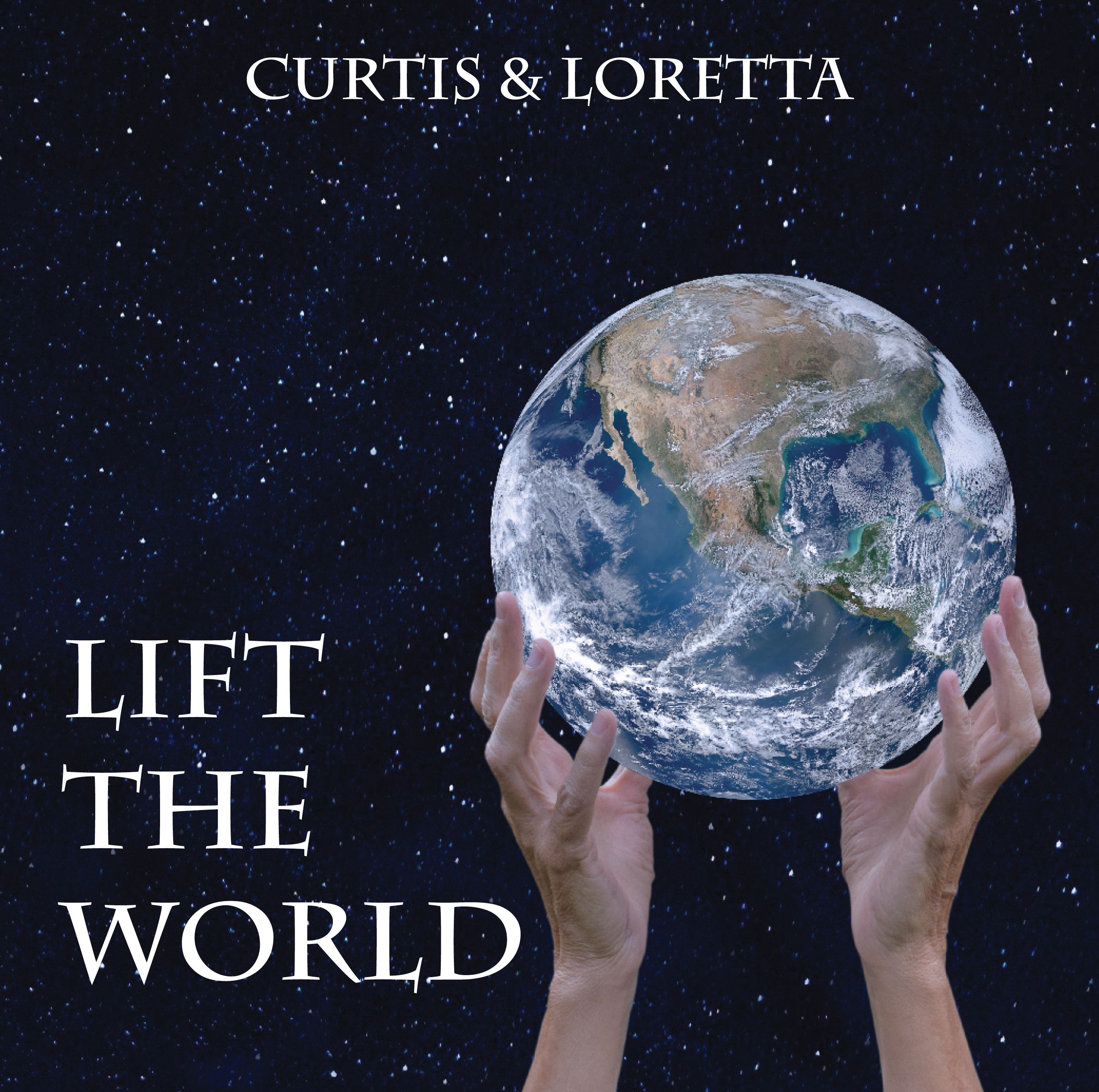 The full album, "Lift the World" is out in the world! You can listen, stream, download, and order a physical CD at http://www.curtisandloretta.com/music-store. It's also on all digital platforms, and we'll have them at our live concerts. Here's some info about the songs and the recording.
Curtis & Loretta "Lift the World" Credits, Liner Notes, and Lyrics 
Production Credits 
Produced by Curtis Teague, Loretta Simonet & Doug Lohman 
Recorded, mixed, and mastered by Doug Lohman at Armadillo Sound, Minneapolis Photos of Curtis & Loretta by Jennifer Bong 
Graphic Design & Cover Artwork by Jeanne Bullard 
Thoughts from Curtis & Loretta 
During the pandemic, we had time and space to step back and view the world with clear vision, and unique perspective. These songs celebrate what is truly important in this life, especially those who are most dear to us. We learned what things we should keep and build upon, and what things we should throw out. Curtis & Loretta 
Dedication 
This recording is dedicated to the courageous folks on the frontline of the pandemic, to all those lost, and also to the folks who helped their neighbors persevere through their generosity and consideration. 
Acknowledgement 
Loretta Simonet is a fiscal year 2022 recipient of a Creative Support for Individuals grant from the Minnesota State Arts Board. This activity is made possible by the voters of Minnesota through a grant from the Minnesota State Arts Board, thanks to a legislative appropriation by the Minnesota State Legislature; and by a grant from the National Endowment for the Arts. 
Liner Notes 
1. Roots Grow Strong (Simonet) 2:49 Melodic harp, mandocello, bass and fiddle. If we can just open our eyes and recognize all those who hold us up and lift us into the light, we discover our true roots. 
2. Santa Claus on Halloween (Simonet) 3:21 Loretta wrote this love song for Curtis, with all his charming eccentricities. Rhythmic and playful, guitars with bass and fiddle. 
3. Lift the World (Simonet) 3:09 Resonant strains of harp, mandocello and fiddle.If we can step back and see the world as it is, and appreciate those who help us find peace, the weight of the world will be lifted off of our shoulders. Together, we can lift the world. 
4. Karmic Closet (Simonet) 3:15 Fun, upbeat blues tune with poignant humor. Guitars, bass, fiddle and shakers. During the pandemic, lots of us found time to clean our houses, but how about organizing our other closets? 
5. Home in You (Simonet) 3:23 Loretta wrote this after hearing that a good friend had Covid and was not expected to survive. Though in his 90s, he did survive, and the experience led her to thinking of all the dear ones in our lives who help us find our way, and help lead us home. Melodic harp, mandocello and fiddle. 
6. Corona (Simonet) 2:50 Haunting harp, mandocello, and bowed cello. A stark look at the darkest days of Covid-19, tempered by the discovery of silver linings that emerged. "Oh Corona could you be, a blessing and a curse?" 
7. Shoulda Coulda Woulda (Simonet) 2:19 A playful yet thoughtful look at that state of mind we sometimes fall into. Lively guitars, bass and fiddle. We had plenty of time during the pandemic to look back and wonder if we'd taken the right path. 
8. Beauty of the Song (Simonet) 2:31 The vibration and words of music sent out to the world helped many of us through the pandemic. Music is a powerful tool to be shared and passed on. Sweet strains of harp, mandocello, and bowed cello. 
9. Dr Grace Danforth (Simonet) 3:39 Curtis' grandmother was delivered into this world in 1893 by a Texas suffragist, Dr Grace Danforth, and they named her Margaret Danforth Eanes. It was 
the same year the good doctor co-founded the Texas Equal Rights Association. This true story of the doctor's life illustrates the prejudices and barriers she battled, and how she was victorious in paving the way for future generations. Guitars, bass and fiddle. 
10. When the Roll is Called Up Yonder ( Black - public domain) 2:30 We honor all those who passed on during the pandemic with this fast-paced old-time song from 1893. There was a lot of roll-calling during the pandemic. Banjo, guitar, bass and fiddle. 
11. Get a Hound (Teague) 7:17 Lively ukulele, bass, kazoo and shakers. Curtis takes a frisky and spirited look at the duties our canine friends can fulfill, during the pandemic and beyond. 
12. Hand Me Down My Walkin' Cane (Bland - pubic domain) 2:31 This timeless piece, written in 1880, cooks right along, showing us the way to keep on keeping on. Banjo, guitar, harmonica, bass and fiddle.