Larry Von Berg picked up the Star Tribune one day in September of 2013, and read an article about homelessness in the Twin Cities. Toward the end of the article, a name jumped off the page at him. Doreen Marie Donovan.  He had finally found her! It said she was working at a homeless shelter in Minneapolis. It was five miles from the Courage Center, where he worked. He hadn't seen Doreen since 1974. They had volunteered together at the U of M back then, and went out together a few times. They had both moved away and lost touch. But that was about to change!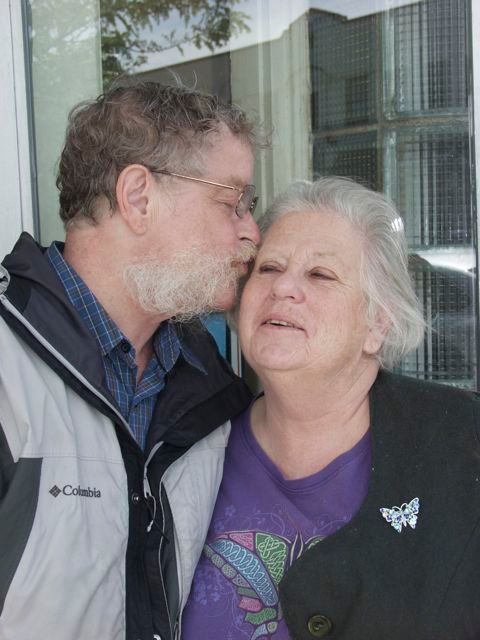 Larry and Doreen Von Berg
In 2014, Larry and Doreen were re-united, after a 40 year separation. I read about it in a subsequent Star Tribune article. I was deep into my grant song-writing project, and had identified the people I wanted to write about for eleven of the songs. In fact, most of the songs were already written. I was holding off filling the final, twelfth "slot" on the CD. Some of the songs I had already written were very heavy subject matter, including Lester Schrenk on the forced "German Death March" in WWII, Harvey Ronglien and Peter Razor enduring childhood abuse at the state orphanage, and Mary Ann Peltier Rigney battling cancer. I wanted a good balance of stories, and when I came upon the story of Larry and Doreen, I knew this love story had to be part of the project. I contacted them and was really happy when they agreed to meet with me and tell me their story so I could make it into a song! On May 30, 2015, we got together at "Turtle Bread," in south Minneapolis. I turned on the Zoom digital recorder, and Curtis manned the camera.
They started from the very beginning of their story, in 1973. Every Sunday night Larry and Doreen volunteered on the same shift at the Night Place at Coffman Union at the U of M. It was a drop-in center, a place where students and even some homeless people congregated for peanuts, conversation, and cribbage. Doreen was a senior at the U, while Larry had graduated and was looking for a job in social work. He hadn't found one yet, so he was working as a cook at a pizza place.
They were interested in each other, and went out a few times. Unbeknownst to each other, they both applied for VISTA, a national service program to fight poverty in America. They were both accepted, and she was sent to New Orleans after she graduated. A few months later, he was sent to Kansas City. As they parted, they promised to write.
Then Doreen decided to go visit him. She told me, "Somewhere around the age of 22 I got it in my mind that I was going to marry this man. So I took the Greyhound bus up to propose marriage.  We had planned the visit, but he didn't know the 'hidden agenda.'  And when he found out the hidden agenda, he was a little bewildered."
I turned to Larry and he told me, "I knew I wasn't ready for any commitment.  I was making a Vista salary, which was like $200 a month. Even at that time that wasn't much. And my apartment was a cock-roach infested ghetto apartment. I knew I couldn't make a lifetime commitment on that."
Doreen continued, "And by the end of the week, he convinced me that that was true.  So I went back to New Orleans." Larry wrote to her again, asking to be friends. She wouldn't answer him. About a year later she regretted her decision to quit writing, so she sent a letter, but by then he had moved to Iowa, and he never got her letter. Doreen said, "He never responded, so I assumed he just went on with his life." She kept that final letter he'd written, and a photo of them, for 40 years.
Decades passed. Larry eventually moved to the Twin Cities, to work at the Courage Center. Doreen eventually got a job in social work, and moved back to the Twin Cities too. Once the Internet came into existence, he searched online for her, but couldn't find her. When he read the article (read it here) which mentioned her working at a homeless shelter, it said she had started using her middle name. So he searched on Facebook for Doreen Marie Donovan, and just like that, there she was. He sent her a Friend request, and after she accepted it, he received a private message she had sent him a year earlier but that he couldn't read because they weren't Facebook "friends" at the time. By now it was September 2013, and they sent messages back and forth on Facebook for six weeks before he gathered the courage to ask her out on a date. They went to Pannekoeken Huis for pancakes. 
I asked how it was, seeing each other for the first time in 40 years. Larry said, "We weren't expecting anything. We talked about what we'd done over the years and our interests.  We kind of wanted to have another date.  We had more and more, and got to know each other." Definitely, sparks were flying! One year later Larry proposed, and her answer was yes. Doreen said before they got married, the priest wanted them to do an activity together that would bring them closer together.  She laughed and said, "So, we went to community ed. for a class in Medicare Part A, B, and D."
Remember back in 1974, Doreen was convinced he was the man she would marry? When I was writing the song, this stuck in my head, and I smiled to myself as the last line of the last verse wrote itself, "And she was right, so long ago, he is the man she married." 
They were married on April 12, 2015, both at the age of 64. Rochelle Olson, the same reporter who had written the first Star Tribune article wrote a follow-up article, telling how they had met and ultimately married due to her article about the homeless.  (Read the second article here.) It was that article that caught my eye and put me on a mission to craft their story into a song. 
In that article, Rochelle Olson wrote, "Donovan said she came to regret losing Von Berg, and also assumed he had moved on. In the past year, the dormant attraction came right back....Of their rediscovered love and marriage, Donovan said, 'Why not? Give life a chance.'"
In many of these songs I've written, I've used direct quotes from some of my "subjects." As I was writing this song, I came to the chorus, and started to write "give life a chance." But as I mulled their story over in my mind, I turned things around and ended up with "May life always find a way, to give love a chance."
Larry and Doreen will be at our CD release concert at the Cedar Cultural Center in Minneapolis on November 22, along with many of the other people in the twelve songs I wrote for our new CD, "When There's Good to Be Done."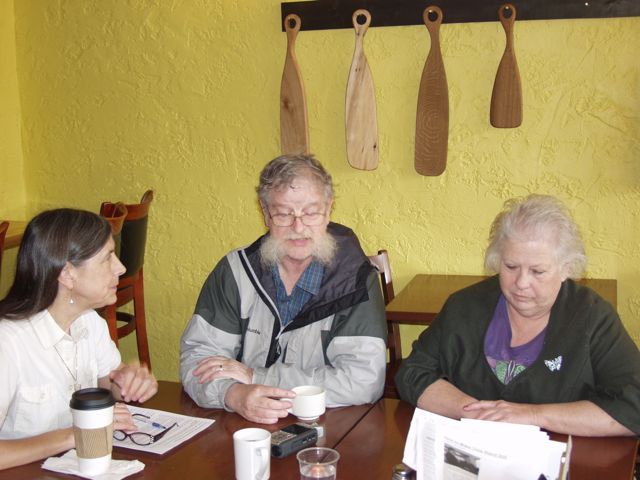 Loretta interviewed Larry and Doreen at Turtle Bread in Minneapolis May 30, 2015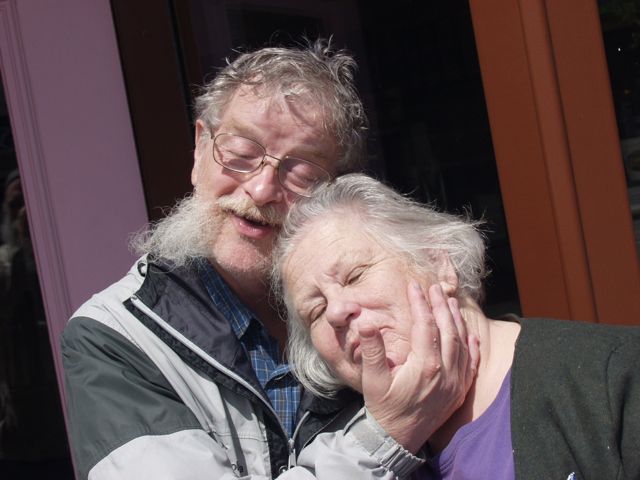 Larry and Doreen Von Berg, May 30, 2015, a month and a half after their wedding